Task Management Software
Milestone Solutions are approved Atlassian Experts, who can deliver JIRA consultancy to various industry verticals. We have used our expertise to craft a Task Management Tool, named SWIM (Smart Workflow & Intelligent Management), that facilitates managers, engineers and users to control and manage activities, effectively eliminating many of the common task management pain points that you and your employees deal with on a daily basis. SWIM is a web and mobile based solution that allows users to track time & progress based on predefined Kanban workflows, leveraging lean & agile methodologies. The platform also facilitates third party integration with project management tools, document management systems and quality management systems.
Current Pain Points of Task Management
Simple Task Overload
Without the help of a dedicated task management system the sheer amount of tasks that you and your team are trying to juggle can lead to overlooked emails, lost projects and inefficient workflows. These together create a spin off effect leading to missed assignments, deadlines, and opportunities. Assigning and managing duties, whether they're for yourself or other team members, helps everyone stay focused on the things that matter to your company. It's less stressful for everyone when tasks can be organized in a way that allows for higher productivity, clear direction and meaningful accountability.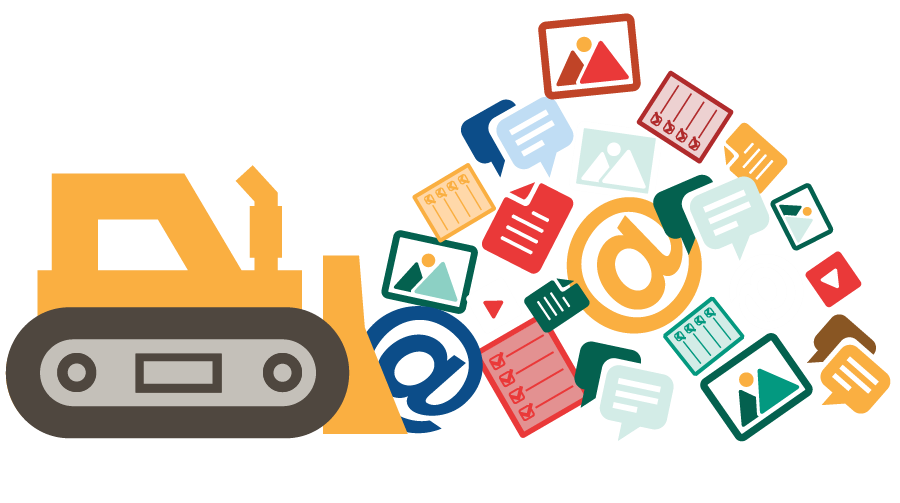 Manual tracking
One of the biggest frustrations for anybody working on a team is manually keeping track of all the small moving parts, including time spent, status, deadlines and progress. Time and money is much better spent moving projects forward, however, instead many companies still insist on spending this time and money tracking projects using inefficient systems. The day of color coding Excel files to highlight a project's status is gone. Managers and team members need to be able to check on progress at a quick glance – from the very beginning of a project all the way to its completion. Our task management system enables this. 
Lost in Communication
A poorly implemented Task Management system cultivates inefficient communication. When you finally manage to filter your way through the spam in your email inbox you find you are left with confusing conversation threads and a maze of group emails. You are left opening incompatible and read-only files and spend your time renaming and re-saving modified files only to be left wondering which file is the most recent version. Our task management system will organise your companies online conversations and store them by project in a spam-free environment, with an effective document management system.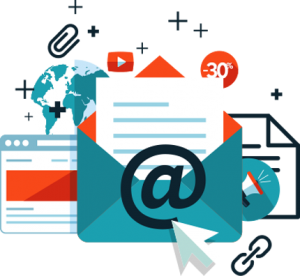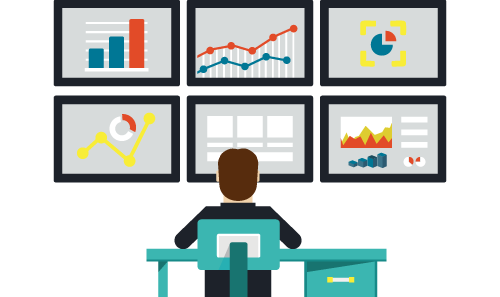 Persistent Project Blockers
With the wrong task management system, it's easy to find your team in a jam if you're constantly dealing with department overloads or project bottlenecks – especially if you don't know who's doing what. With the right task management system, you can monitor your team status and progress while maintaining a steady workflow and consistent task completion.
Knowledge Management
Task related knowledge that has not been effectively documented comes back to bite you as you are challenged with onboarding and ramping up new employees. How do you facilitate better knowledge management, so your team can get up-to-speed as quickly as possible? Time is money after all. You need a task management system that will clearly document the concept of a project, its history, who is responsible for what and the next steps to completion.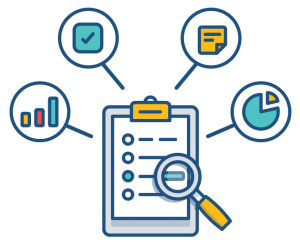 SWIM Software
Milestone's SWIM is a Task Management Tool that facilitates managers, engineers and users to control and manage activities. Activities include:
Task/Ticket Management
Reporting
Timesheet System
Workflow Management
Resource/Asset Management
Planning Tool
Features
Functional Architecture
100%
Functional Architecture
Our SWIM task management system includes all the necessary functionality to manage creation and assignment of tasks, to logging time via integrated timesheets that trigger predefined workflows, based on available resources. These tasks can be easily planned and managed and the SWIM platform integrates seamlessly to other enterprise applications via a Web Service Orientated Architecture.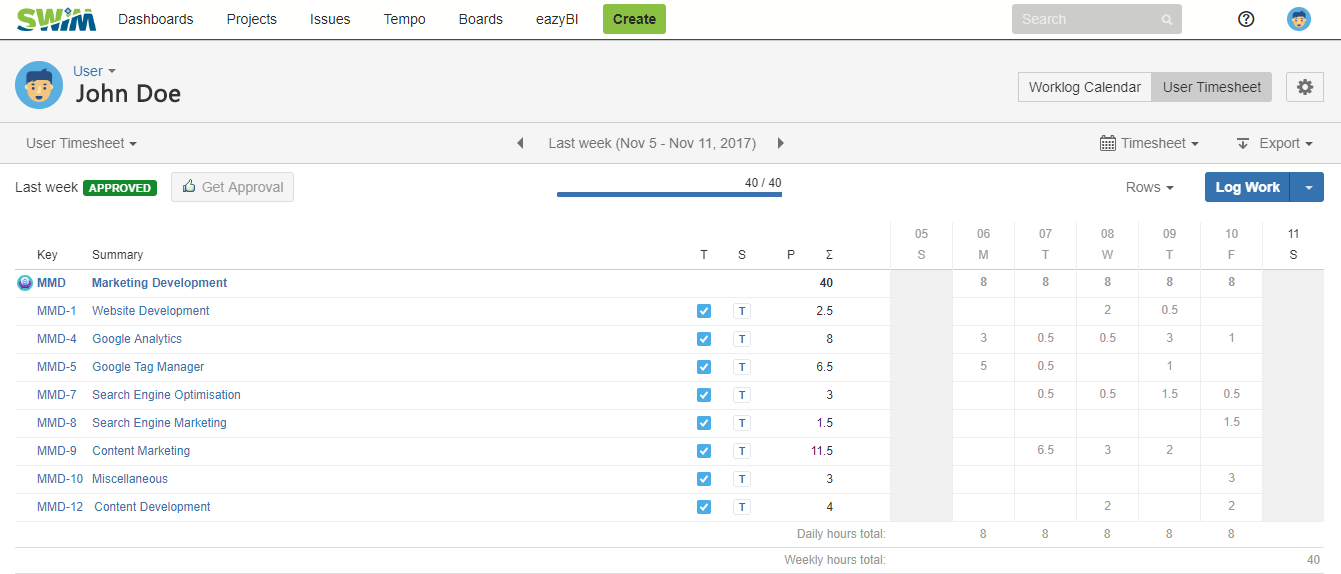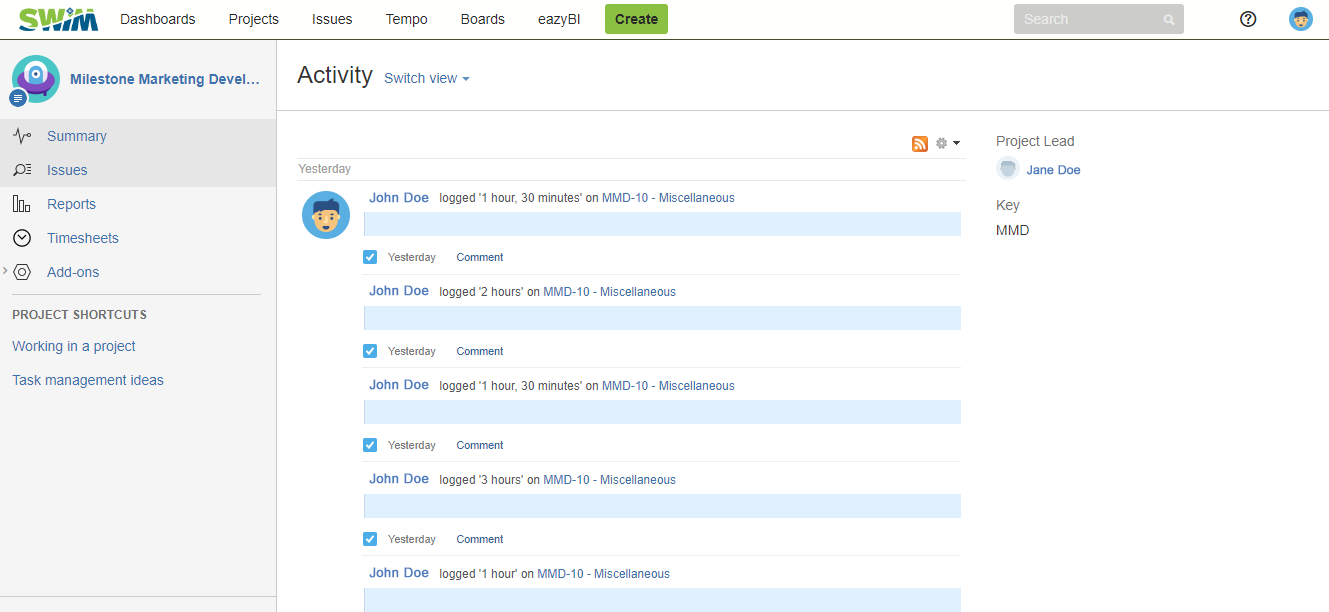 Knowledge Retention
SWIM tracks and timestamps all activity that occurs. It allows users to enter updates and communications against tasks, so all data is recorded centrally. This facilitates full task history when tasks are moved from person or department and provides a fast searchable engine to leverage past effort.
Agile Methodology
SWIM is based on Agile Methodologies. Tasks can be created manually, triggered via email, or via an enterprise application. These tasks can be prioritized, viewed and moved through a workflow via simple "Drag 'N' Drop" interaction by users.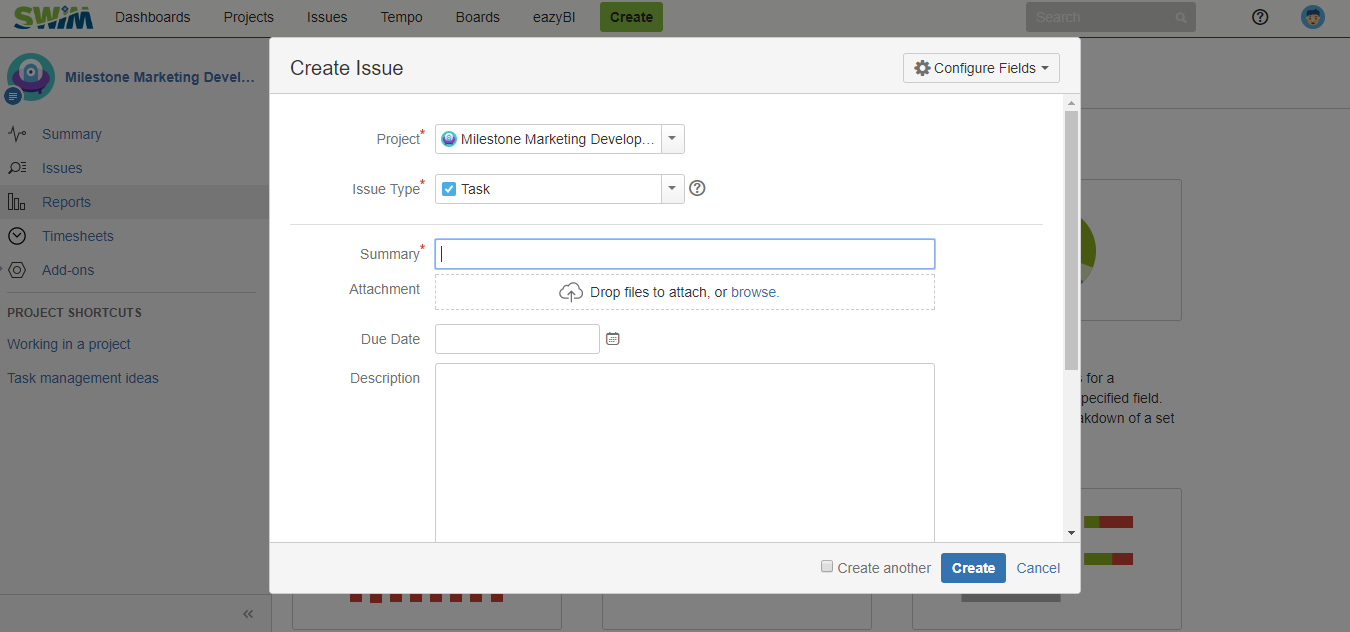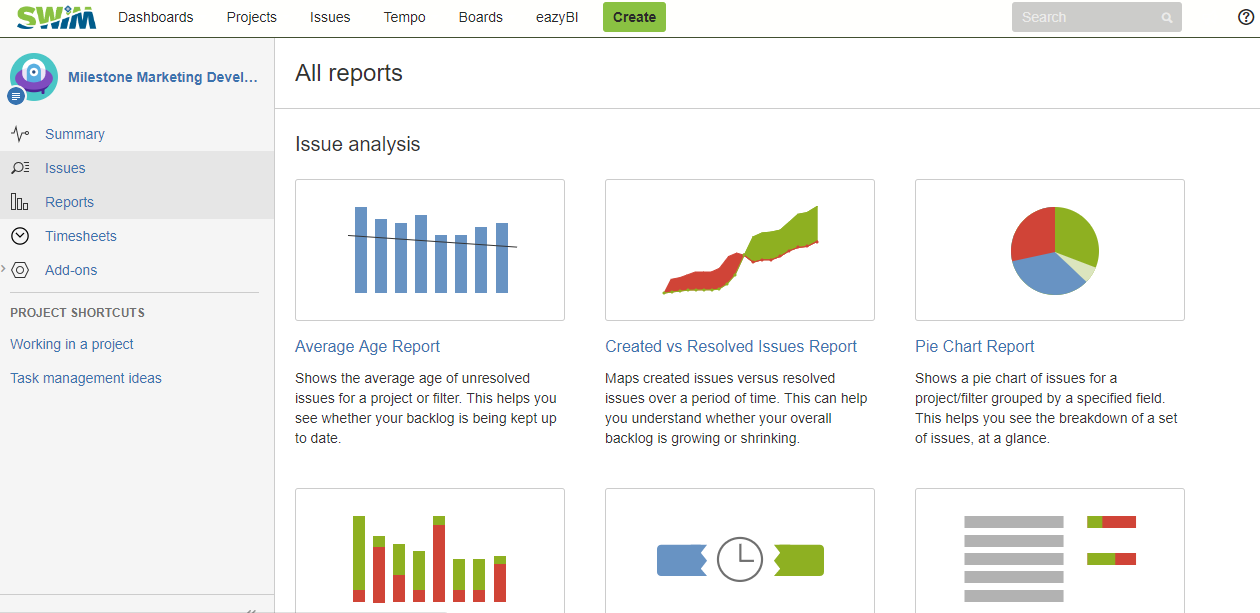 Real Reporting - Management Reports
SWIM provides for out of the box reporting capability and any Project KPI is easily viewable. Reports are interactive and can be drilled into. Our task management system provides for a single version of the truth with all activities per user traceable from creation to completion, with all hours effort and schedule duration traced and reported.