Our Solutions
Milestone Solutions is a committed provider of industry solutions, specialising in Quality Management, Task Management and Asset/Resource Management. We have worked as end users, engineering consultants and system integrators. We use these platforms ourselves. We see the business process from your perspective. We know what you need from your software and we provide it for you.
Quality Management System
Companies are being challenged, now more so than ever, to re-think their quality models and make strategic quality a foundation pillar on which to run their organisation. ISO 9001:2015 is the ultimate recognition of a quality based management system and provides those accredited with a significant competitive advantage. It is imperative that those who are not yet accredited, seek compliance. And those already accredited with ISO 9001:2008, for whom the September 2018 deadline continues to loom large, need to make the transition. Make the transition with Milestone Solutions. We have developed a web based, paperless solution that helps companies comply with ISO 9001 standards.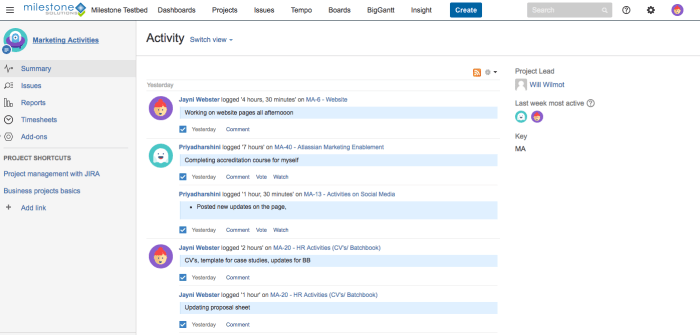 Milestone Solution are approved Atlassian Experts, who can deliver JIRA consultancy to various industry verticals. Milestone's SWIM is a Task Management Tool that facilitates managers, engineers and users to control and manage tasks, tickets, timesheets, workflows, resources and assets. It also facilitates powerful reporting and planning. It is a Web and Mobile based solution that allows users to track time & progress based on predefined Kanban workflows, leveraging Lean & Agile Methodologies.
Asset/Resource Management System
Asset/Resource management is making sure that all the valuable items your company buys are both accounted for and being used. Basically, if your company owns or leases an asset, you need to know where it is and whether it is being used, and make sure it is maintained properly. Assets can be anything. Some of our assets in Milestone include our computers, projectors, company phones and even company cars. We track the stuff that we have that is important to our business. To do so we use our Asset/Resource Management system which is built on Jira software. Now you can too!